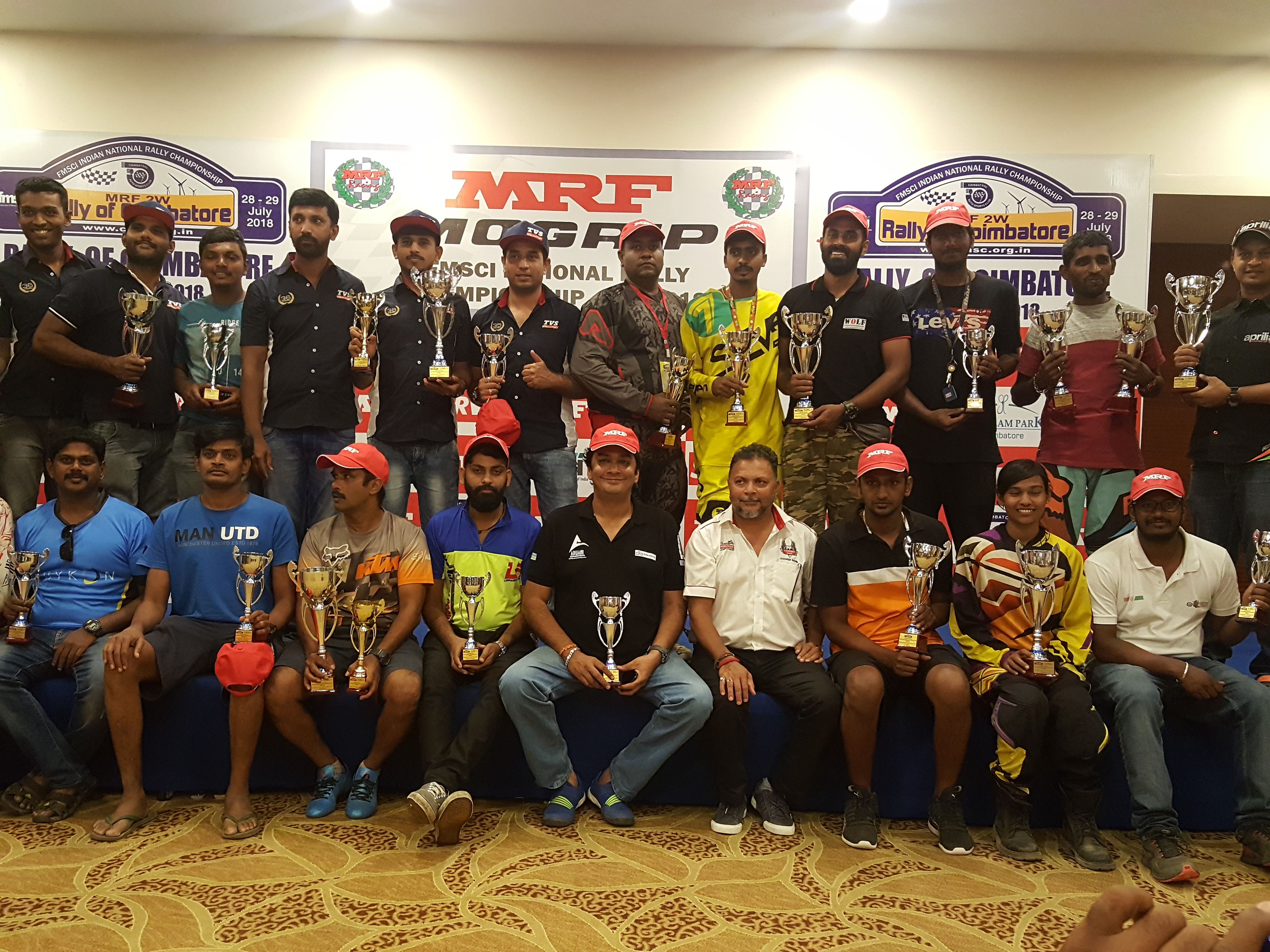 Mr. Harith Noah of Team TVS riding a TVS RTR 450 motorcycle, had tie with Abdul Wahid of the same team, clocking 47 minutes and 33 seconds. Applying the tie breaker rule, Mr. Harith Noah who had clocked the fastest time in the first stage was declared the overall winner of the MRF Rally of Coimbatore, the fifth round of the MRF MoGrip FMSCI National Rally Championship for two-wheelers, here on Sunday.
"The route was very challenging and I enjoyed riding the stages," said Shoranur based winner Harith Noah. "This is one of the best event I haven taken part", he added.
He clocked 47 min, 33 seconds to complete the challenging Special Stages set around the wind farms near the Kethanur (Palladam) area.
The total distance of the route was approximately 111.11 kms, with the total distance of the Special Stages approximately 56 kms. This time around, unlike last year, there were two Special Stages – the Black Thunder Stage (14.85 km) and the Thunder World Stage (14.45 km).
Mr. R. Nataraj, winner of the opening four rounds, came overall third in a time of 49 minutes and 09 seconds.
Seventy Four riders took part in the in the rally organised by Coimbatore Auto Sports Club, while Local lad K. Sasikumar won the Star of Tamil Nadu category exclusively for riders from Tamil Nadu and was placed overall 14 with a time of 58 minutes and 16 seconds.
The ceremonial flag off was from Hotel Gokulam Park by Mr.R. Kanagaraj, M.L.A., Sulur Constituency on Saturday, 28th July 2018 at 05.00 PM. Mr. Ivan Oswald, Regional Sales Manager, MRF Limited was the chief guest for the prize distribution function which was held at the same venue on Sunday, 29th July 2018 at 06.30 PM.
Organisers, CASC would like take this opportunity to thank M/s.MRF Limited and M/s.Godspeed for sponsoring the event as well as the Championship, and look forward to their continued support.
RESULTS
OVERALL WINNER
1st Place Harith Noah (TVS Racing) Shoranur 2nd Place Abdul Wahid (TVS Racing) Mysore 3rd Place R.Nataraj (TVS Racing) Bangalore
WINNER OF C-1 – Super Bike Pro Expert
1st Place Harith Noah (TVS Racing) Shoranur 2nd Place Abdul Wahid (TVS Racing) Mysore 3rd Place R.Nataraj (TVS Racing) Bangalore
WINNER OF C-1A – Super Bike Expert
1st Place Badal Doshi Privateer Mumbai 2nd Place Jatin Jain Privateer Nagpur 3rd Place Aakash Aital Privateer Puthur
WINNER OF C-2 – 130 cc
1st Place Rakesh Kumar Privateer Bangalore 2nd Place Santhosh Privateer Coimbatore 3rd Place Vignesh Privateer Coimbatore
WINNER OF C-3 – 165 cc
1st Place J.Imran Pasha TVS Racing Mysore 2nd Place V.Thirinesh Privateer Bangalore 3rd Place D. Sachin Privateer Bangalore
WINNER OF C-4 – 260 cc
1st Place R.E. Rajendra TVS Racing Shimoga 2nd Place Samual Jacob Privateer Hosur 3rd Place Jeeva Rathinam Privateer Bangalore
WINNER OF C-5 – 400 cc
1st Place V. Venu Rameshkumar Privateer Coimbatore
2nd Place D. Karthikeyan Privateer Coimbatore 3rd Place Prabhu Chandramohan Privateer Trivandram
WINNER OF C-6 – 550 cc
1st Place Sreekanth Komana Privateer Trivandram 2nd Place M.R. Ranjith Privateer Trissur 3rd Place Abijith Joy Privateer Eranakulam
WINNER OF C-7 – Scooter Class
1st Place Pinkesh Thakar Aprilla Racing Pune 2nd Place Syed Asif Ali TVS Racing Hosur 3rd Place Syed Zeeshan Privateer Thane
WINNER OF C-8 – Ladies Class
1st Place U.Fazeela Privateer Cochin
WINNER OF C-9 Star of Tamil Nadu
1st Place K. Sasikumar Privateer Coimbatore 2nd Place M. Santhosh Privateer Coimbatore 3rd Place Sam Issiah Privateer Coimbatore